Eased Restrictions in Bangkok and Other High-Risk Provinces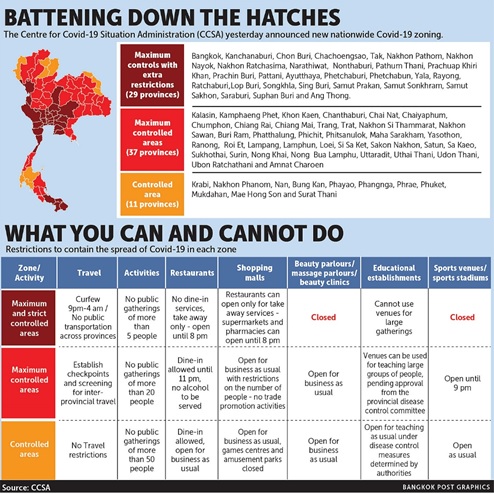 September 4, 2021
Authorities have implemented eased restrictions in Dark Red Zones from September.01 – September.14 amid lower COVID-19 cases.
Under this measure, Bangkok and other Red Zone Provinces have to remain in restriction between 21:00-04:00. The gathering size has been increased from 5 to 25 people. Some businesses and eateries may reopen but must comply with health protocols like social distancing, proper ventilation, hygiene standards, and fully vaccinated employees who must take weekly COVID-19 tests.
Restaurants located outdoors may accommodate dine-in customers at up to 75 percent capacity; air-conditioned indoor food establishments can take up to half capacity. Most businesses in shopping malls may re-open except for cinemas, conference halls, and sporting facilities, amongst others. Inter-provincial travel may resume but it has been advised to avoid unnecessary travel to the Dark Red Zones Area. Public transport must operate at 75 percent capacity, and passengers must wear masks all the time.
For more information, you may go to,
https://www.tatnews.org/2021/08/thailand-eases-covid-19-restrictions-from-1-september-2021/